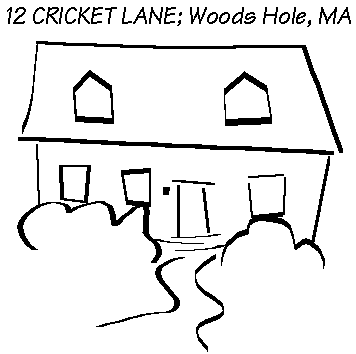 The house
---
Musicians-In-Residence
Jorge Moreira, violoncello
Mark Terasaki, pianoforte
The Repertoire
'cello & piano:
Elegy, opus 24, Gabriel Faure (1845-1924)
The Swan, (from The Carnival of Animals), Camille Saint Saens (1835-1921)
Sonata No. 1 in G major (transcription from the sonatas for viola da gamba), J S Bach (1685-1749)
Vocalise, Opus 32 No. 14, Sergei Rachmaninoff (1873-1943)
Sonate Opus 17, the Horn Sonate, transcribed (somewhat rusted), Ludwig van Beethoven
Die Stucke, Robert Schumann
At one time in the Repertoire, but not recently
Song Without Words for 'cello, Felix Mendelssohn
Contemplated additions (long term projects)
Cello Concerto in C major, Franz Haydn (1732-1809)
Also known as "Der Furz" for the entrance of the Cello, which is a loud, abrupt C major chord. If you don't know what furz means, look it up in a good german dictionary
Cello Concerto in C major, Franz Haydn (1732-1809)
Concerto number 4 in G major, George Golterman
Deuxieme Sonate, Gabriel Faure, (project for 21st century, sort of)
Several other pieces somehow partially played and abandoned, and many others just attempted
Trios
(with Christina Wietasch, violin):
Franz Joseph Haydn, Trios for piano, violin and cello
(with Luis Barbiero, flute)
J S Bach.
(with Linda Runft, flute)
Haydn, Faure
Solos
Mr. Moreira: The Cello Suites, Johann Sebastian Bach (1685-1750)
Mr. Terasaki: Ragtime novelties - Magnetic Rag, Bethena, etc by Scott Joplin
New! A Recording of The Elegy. And a complete recording of Die Stucke.
What the Critics say:
"You guys have improved a lot!", general comments.
"My favorite was Vocalise" Orian Shirihai, Israeli Times
"I was transported to another dimension. But don't you think the Bach should be played a little faster?" Frederick Reuss, famous novelist.
"My favorite is the Pathetic!" (regarding "Elegy") Thomas S. Reese, The Bethesda Bee
"It was so peaceful, it just put me to sleep!" (Bach) Laurinda A. Jaffe, West Hartford Dispatch.
"It reminds me of, of.... a Rabbit!" (on "The Swan") Jackie Hartzler, classical music groupie.
"Roll over, Beethoven" L. Pozzo-Miller, Lakian Fellow
"Aaaaaaaa-Wooooooooo!!!!" Watson Reese-Smith, Graduate, Canine School of Music Appreciation
Devoted Listener Award
The Cricket Lane Ensemble has many, many devoted fans. To show our appreciation, the Ensemble has decided to give an annual Award, which goes to the person who has heard "Elegy" the most times in the summer. For summer 1996, the winner is: Dimitar Nikolov, Rockefeller University, now of Sloan Kettering. For summer 1997, the winner is a tie: Joseph DiGiorgis, Brown University, and James Galbraith, Duke University. There has recently been some talk of a "Lifetime Achievement Award". The obvious candidates are Mr. DiGiorgis, Mr. Galbraith, and Ms Laurinda Jaffe.
Jorge Moreira, renowned cellist, was born in the small town of Parana in the province of Entre Rios, Argentina. He started musical studies at the age of 8, with the Maestro Adolfo Paulinelli in his home town, and since then he has been playing and not playing during alternate periods from 1 to 10 years. In the process, however, he has performed all over his native country as well as Brazil. He has most recently studied with Erwin Klinkom, a student of Maurice Gendron, and with Takeishiro Hirai, the noted Casals student. In the United States, Mr. Moreira has performed in Maryland, Connecticut, and of course, at Woods Hole. Mr. Moreira plays a 150 year old German cello of unknown authorship, partially restored and evaluated by Howard Needham of Bethesda, MD.
Mark Terasaki learned to play the piano in Los Angeles, California, United States. As with Glenn Gould, he had only one teacher, Mrs. Helen Kinsley, from when he was 8 to 18. After not playing for a long period, he took it up again and is generally enjoying himself. His chamber music activities have included clarinet, recorder and voice accompaniments. His solo specialties remain Bach and Scott Joplin, but he has been trying to branch out to Schubert and Gershwin. Mr. Terasaki plays a 5 year old Yamaha Clavinova. M Terasaki on the piano!
Favorite Quartet of the Cricket Lane Ensemble: The Colorado Quartet
---
Movies at Cricket Lane Let a Thousand Flowers Bloom! that is how Mao Tse Tung encouraged self expression at the beginning of the cultural Revolution. At Cricket Lane, there are as many opinions on movies as there are cat hairs on the couch!
Partial list of movies viewed summer, 1996: Wallace & Gromit The Wrong Trousers (pretty much universally enjoyed), Blow Up (very mixed reactions), Babe (range from ecstatic to polite approval), 12 Monkeys (very enthusiastic to very puzzled), Under Capricorn (panned by all), Clockers (interested on the whole)
Partial list of movies summer 1997: When We Were Kings (the favorite), The Private Life of Plants (favorably received), Death By Design (also favorably received), Independence Day (one walk out).
Some movies from past summers: Apartment Zero, The Men Who Face South, Children of Paradise.
Literature at Cricket Lane Some favorite books and authors of the past: Patrick O'Brian Aubrey Maturin series, Jorge Luis Borges, Shipping News (Annie Proulx), Autobiography of Alice B Toklas. Lately, Carl Hiaasen, Patricia Cornwall. Cricket Lane was also visited a few years ago by the novelist Frederick Reuss, who wrote "Horace Afoot" (1997).
---
Food at Cricket Lane: our motto is "Everything from scratch!"
Barbecue the traditional dinner
Bread: how to make it
Spirits: dissertation on scotch
Desserts (under construction)
More recipes
The traditional Argentinian barbecue dinner at Cricket Lane:
Barbecued beef spare ribs and sausages (with chimichiuri sauce),
Baked potatoes,
Bread,
Salad with oil and vinegar, and
A red wine with body.
Afterwards, a cigar.
How to make bread. Pour out 3 parts flour on a big flat surface. Add enough salt to give it some zing, and enough yeast to make it rise. Add approximately 1 part water. Start kneading it. It will slowly start to come together. If it is dry and does not become coherent, add some water. If it sticks to your hands, add some more flour. Continue to knead. Give your hands and arms, as well as the dough, a good workout! When it is done, cover it with a dish towel to prevent it from drying out, and let the yeast work away as you go on to other activities. When you finally remember the dough, take a look at it. If it has expanded noticeably (technically, at least doubled in size), knead it again and put it in a cloche. Let it rise again and then bake it in the oven at about 400 F until it is done (by the color of the crust). Remember to check it every now and then or it will turn completely black and won't taste good. To order flour or a cloche, try King Arthur Flour.
Some favorite cook books: Brother Juniper's Bread Book, James McNair Grilling, Pierre Franey 60 Minute Gourmet, Rombauer Joy of Cooking.
Dissertation on Scotch: Traditionally, the big question in Scotch is: which is better, blended or single malt? After much investigation, Jorge Moreira and Joseph DiGiorgis have come to the radically different conclusion that: They're both good!
---
Sailing at Cricket Lane
El Lobito (the little wolf): This was the vessel that started it all. It was a Sunfish that we kept on the Woods Hole Yacht Club beach. There are many stories associated with how Jorge y Mark (los viejos lobos de mar - the old sea wolves) learned how to sail on this boat. One of them was how in the very first voyage, with Steve Vogel, the boat capsized twice. The very last story is a sad one, how at the end of the summer of 94, Mr. Terasaki forgot to tie down the boat on the beach, and El Lobito decided to go on a solo voyage across the Atlantic. We wish it well!
Scherzo This boat, owned by Jorge, is a seventeen footer of the Javelin class, with a mainsail and jib. It is moored in the summer in Great Harbor.
Motor-Boating at Cricket Lane
The Vesicle: This boat is co-owned by Mr Terasaki and Mr David Serwanski of New Britain, CT. It was bought at a yard sale at the Church of the Messiah at the end of the summer of 1995 for $250 and made its debut in the summer of 96. It is a semi V aluminum boat, about 14 feet, and possesses a 4 hp outboard gasoline motor that is surely one of the loudest in Eel Pond. It hasn't gone very far, but is very nice for night time voyages. The Vesicle had an eventful summer in 1997. It struck a buoy in Eel Pond, which sheared off all three propeller blades. Fortunately, the propeller is plastic and was easily replaced. On August 16, the Vesicle was found completely overturned at its mooring (it got wedged between two boats). Thanks to Stephen Smith for noticing this and correcting the problem. The motor, of course, had been soaking in sea water, so M Terasaki, with some assistance from J DiGiorgis and J Galbraith, drained out the gas lines, took out the spark plugs and sprayed motor oil into the cylinders. Restitution of the motor will be a winter project for D Serwanski. He reports that the cylinders seem fine but that the throttle mechanism was frozen in place by the sea water. He is currently soaking it in penetrating oil.
Swimming at Cricket Lane
Laurinda Jaffe has swum the waters of Woods Hole and has identified the following "great swims in the area":
1. "The Big Swim" - start from Gansett Beach and swim north towards Quisset Harbor. 2/3 of the way there, you see a cove. Land at the far end of the cove and follow the path along the cliffs to Quisset and then follow the road back towards Gansett. Don't be bashful about walking along what appears to be a private driveway. The driveway ends on a road where you take a right. At the top of the hill, do not take a left! Look for the path through the bushes leading you back to Gansett. Total time round trip from Cricket Lane is about 1 hr when swimming with the current and wind (check Eldridge's yellow tide table book). Best to wear Aqua shoes (Nike is house brand) for this great biathlon.
2. "The Little Swim" - start from Gansett and swim to the right towards the big rock. Go just beyond the big rock, then after admiring the scenery, turn around and swim back.
Long walks
Laurinda Jaffe enjoys the long walk from behind the Chapaquoit Grill to the beach at Great Sippewisset Marsh. It goes along a defunct railroad track and then through bushes and across the marsh to the ocean. She enjoys another long walk even more, but unfortunately, it involves some major trespassing and cannot be recommended to the general world wide web audience.
Picnics on the beach
L. Jaffe reports that Wood Neck Beach is the best for picnics. Items to bring: a shallow barbecue grill with charcoals and weber solid starter. Food convenient to cook at the beach are shish kebabs and grilled peaches.
Wrestling
In June 1996, Clare Waterman-Storer (early 30's postdoc who lifts 300 lbs) challenged Thomas Reese (early 60's lab chief) to a bout of indian wrestling. The match took place in the Cricket Lane living room in front of a dozen lab members and hangers on. Right at the start, Reese used his best move, throwing Waterman-Storer off balance so that she landed directly on her posterior parts. Before the shocked audience had time to recover, Waterman-Storer challenged Reese to "two out of three?". The match was well fought, with Reese turning back the challenger 2 to 1. A rematch took place on July 4, 1997. Waterman-Storer wore a white jersey with blue silk boxing shorts. Reese wore his normal clothes, but amazed everyone by stripping to the waist for the bout, revealing several small tattoos. Reese turned back the challenger again in a brief match. He then took on C. Smith and Waterman-Storer simultaneously, beating them both, and receiving a bite on the leg by Waterman-Storer in the process. For this unsportsmanlike conduct, Waterman-Storer has been banned from Indian Wrestling for one year. Movie! Later in the summer, Eric Brown, a Neurobiology course student, challenged Reese. The champion affected the attitude of an old gunfighter who reluctantly must shoot down every young whipper snapper that rides into town to challenge him. The match took place at the Course party with somewhat surprising results. Movie!
Fishing The Cricket Lane expert is actually a guest visitor - Mr David Serwanski. He caught a "keeper" in the "Hole" last June 1997. We put the fish on a scanner to document this great catch!
Diving under construction
Neurobiology Course Party
For the past several years, the final course party for the MBL Neurobiology course has been held at Cricket Lane. In 1995, the big oak table, which had been put on its side in the hallway in order to make space in the living room, cracked between the table top and legs and made a tremendous noise. In 1996, a water pistol fight erupted between students and faculty. Thanks to our supplier, Lisa Mehlmann, there was also a fireworks show. In 1997, there was an amazing faculty talent show. See the videos! including fireworks 1997!
---
12 Cricket Lane
Woods Hole, MA 02543
508 540 0135
---
---
The Famous Captain Kidd Room
This is a very small room right next to the front door. It has a twin bed, closet, window, and enough space to turn around in. It may not sound like a great place to stay, but quite a few people really like it. It is not known how it got its name, but some say that it is frequented by those who can't make it very far past the front door after a night drinking at the Captain Kidd.
---
1997 Capital Improvements and Setbacks
As a kind of going-away present for Jorge (who moved to Brazil in Fall, 1997), Jim and Mark constructed, completely from scratch, a barbecue table. On the negative side, the picnic table is no more. It did not survive the winter and was just a pile of wood at the beginning of summer 1997.
---
some illustrious past housemates:
Steve Vogel
Matt Reuss
Sven Vilim
Christophe Pouzat
Dave Carroll
Kathy Foltz
Stu Feinstein
Ayse Dosemeci
Lucas Pozzo-Miller
Jean-Emanuel Faure
Jan Ellenberg

How to get there by car

1998 Sneak Preview:

Cooking: Thai cooking from Victor Sodsook "True Thai" including squid dishes and green mango; vegetarian cooking from Didi Emmons "Vegetarian Planet" - green grape salsa, Vietnamese rice paper rolls, wild rice cakes, sweet potato gnocchi.

Housemates: Jorge is coming back from Brazil! month of July. Andy Giusti from UCSB will be in front room downstairs.

Music: cello and piano - "Die Stucke" may rival "The Elegy" as a requested piece. In addition, M. Terasaki is preparing a knockout piano piece.

Cricket Lane welcomes people of all kinds: this year, we welcome little people, as in Jim G, Jr., and perhaps Alex Pixley-Mehlmann, and Jesse Foltz.

There is a rumor of a new Home Depot in Bourne; if true, there may be a building boom at Cricket Lane. Home Depot or no, there are plans to make a new hexagonal picnic table.

Videos - not clear yet; best so far are "Tracy Ullman" and "Best of Saturday Night Live"

Not known: Will there be another World Championship Indian Wrestling Match? Will there be good fireworks? - some uncertainty about supplier this year.